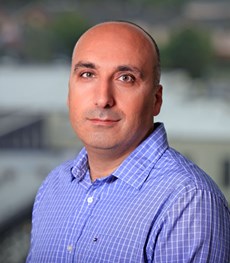 Contact Details:
Email:a.khashan@ucc.ie
Ali is a Principal Investigator in the INFANT Centre and Senior Lecturer in Epidemiology in the School of Public Health, University College Cork.
Research Interests
Ali is interested in research on determinants of maternal and neonatal adverse pregnancy outcomes and the impact of foetal and early life environment on short- and long-term health of the child. He is also interested in the impact of the pregnancy environment and pregnancy complications on the maternal long-term health.
Ali has almost 15 years research experience in Perinatal and Psychiatric Epidemiology with specific expertise in interrogation of complex and large population-based datasets and advanced statistical methods. He has a global network of collaborations in the UK, Denmark Sweden, USA and New Zealand.
Ali's team has produced a series of original and highly cited research papers in high impact journals including PLoS Medicine, JAMA Psychiatry and the International Journal of Epidemiology, which collectively explore in detail causal associations between perinatal risk factors, such as in-utero exposure to stress, alcohol and Caesarean section and later child and adult morbidity. In addition, he has led a series of papers on the impact of pregnancy complications on maternal long-term health.
In the past five years, Ali's research expanded towards perinatal digital health in low-income settings. He led the development of the ULTRA App with Dr Simon Woodworth in UCC and Professor Chris Redman of COLAB (https://pregnancycolab.tghn.org/current-projects/). This App will be tested in community and healthcare settings in Kilimanjaro, Tanzania over the next three years (2021-2024) in collaboration with Professor Blandina Mmbaga of KCRI.
Current role in Infant: Principal Investigator
Career Profile
2014-present:Senior Lecturer in Epidemiology, School of Public Health, UCC
2008-2014: Post-doctoral research, Department of Obstetrics and Gynaecology, UCC
2008:PhD in Perinatal and Psychiatric Epidemiology (University of Manchester)
2004:MSc in Medical Statistics (University and Leicester)
2003:BSc (Honors) in Mathematical Sciences (University of Wolverhampton)
Orcid: 0000-0002-7499-9406