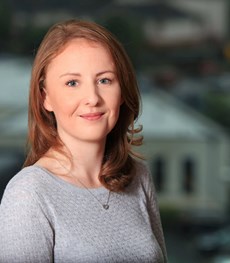 Contact Details:
Email: cnichaoimh@ucc.ie
Carol is the Project Manager of The SKIN Study (SKin Barrier Structure and Function in INfants) and STOP AD (Short-term TOpical Application to Prevent Atopic Dermatitis. These studies, led by Professor Jonathan Hourihane, involve the early identification of children at higher risk of developing eczema and food allergy and the investigation of the effects of short-term neonatal skin barrier protection on the prevention of these atopic diseases in high-risk children.
Carol graduated from University College Cork with a BSc (Hons) in Nutritional Science in 2011 and completed her PhD in Nutritional Science in 2015 under the supervision of Professor Mairead Kiely, one of the Principal Investigators and the Maternal and Child Nutrition research lead at INFANT.
Carol's main research interests are in the areas of pediatric nutrition (with a particular focus on vitamin D) and infant growth and body composition. Her PhD thesis, titled "Nutrition, growth and body composition in infancy", investigated associations between infant growth trajectory and subsequent weight status using data from the Cork BASELINE Birth Cohort Study.
Prior to her current role, Carol worked as a Postdoctoral Researcher with the Cork Centre for Vitamin D and Nutrition Research on the ODIN project, investigating the relationships between intrauterine and early childhood vitamin D exposure and bone development, muscle strength and body composition at 5 years using data from the Cork BASELINE Birth Cohort Study.
Career Profile
2018-Present: Project Manager of The SKIN Study and STOP AD, INFANT, University College Cork
2015-2017: Post-doctoral Researcher at the Cork Centre for Vitamin D and Nutrition Research, University College Cork
2011-2015: PhD, School of Food and Nutritional Sciences, University College Cork
2007-2011: BSc (Hons) in Nutritional Science, University College Cork
Professional activities/achievements
Member of the Nutrition Society since 2011
Presented at a number of national and international nutrition conferences including the Vitamin D and Human Health Conference and the 2nd and 3rdInternational Conference on Nutrition and Growth. In 2017, Carol won a New Investigator Award at the International Conference on Children's Bone Health (ICCBH).
Reviewer for a number of international nutrition journals