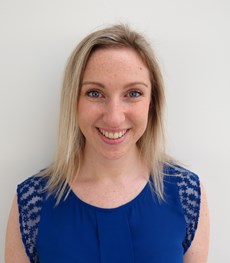 Contact Details:
Email: r.dennehy@ucc.ie
Rebecca is a Postdoctoral Researcher at INFANT, working on a "Study of the impact of dedicated recurrent miscarriage clinics in the Republic of Ireland", led by Dr Keelin O'Donoghue and funded by the Health Research Board (HRB).
Rebecca graduated with a Bachelor of Social Science from University College Cork (UCC) in 2010 and a Master of Public Health in 2013. Based in the School of Public Health at UCC, and funded by the HRB, Rebecca completed her PhD within the SPHeRE Programme (Structured Population Health and Health-Services Research Education) in 2019. Conducted in collaboration with the National Suicide Research Foundation Rebecca's doctoral research entitled "CY:BER (Cyberbullying and Young People: Behaviours, Experiences, Resolutions" employed a participatory research methodology to explore young people's perspectives on cyberbullying as well as their priorities for intervention development. Over the course of her PhD, Rebecca was involved in module co-ordination, teaching and supervision for classroom-based and online programmes on the BSc Public Health and Master of Public Health at UCC.
Rebecca has interest and expertise in health promotion, youth work and youth engagement in research, patient and public involvement in research (PPI), and in qualitative and participatory research methods.
Career Profile:
2020-Present: Postdoctoral Researcher, INFANT Research Centre
2019: Postdoctoral Researcher, School of Public Health, UCC
2014-2019: Module Co-ordinator, MPH Online, School of Public Health, UCC (Part-time)
2015-2016: Module Co-ordinator and Facilitator, Cork College of Commerce
2012-2014: Research Assistant, School of Public Health, UCC.
Education Profile:
2014-2019: PhD | University College Cork
2011-2012: MPH | University College Cork
2007-2010: BSocSc (Hons) | University College Cork
Professional Activities/Achievements:
Member of the Children's Research Network, Special Interest Group in Child and Youth Participation
Member of Institute for Social Sciences in the 21st century (ISS21), Children and Young People Research Cluster at UCC
Editor of EPINews, School of Public Health Newsletter 2017-2018
College of Medicine Health, UCC, Post-Graduate Student Committee Member (Newsletter Editor, 2016)
, University College Cork