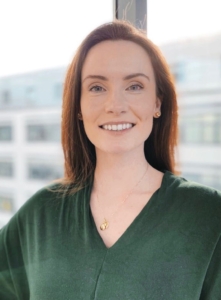 Clinical Researcher
PhD Student
Contact Details:
Email: lobryne@ucc.ie
Dr Laura O'Byrne is a Clinical researcher at INFANT. She is a specialist registrar in Obstetrics and Gynaecology and a current PhD candidate. The focus of her PhD is patient reported outcome measures in maternity care.  This is a collaborative project funded by HRB between INFANT, NPEC and the School of Public Health in UCC.
Career Profile:
2017 – Present Royal College of Ireland higher specialist training in Obstetrics and Gynaecology, University Maternity Hospital Limerick and Cork University Maternity Hospital
2014 -2017 Royal College of Ireland basic specialist training in Obstetrics and Gynaecology, Coombe Womens and Infants Hospital Dublin, St James University Hospital Dublin and Regional Hospital Mullingar.
2013-2014 Resident Medical officer Obstetrics and Gynaecology in King Edward Memorial Hospital Perth, Australia.
2012-2013 Internship Mater Misericordiae University Hospital, Dublin
2008-2012 Bachelor of medicine Bachelor of Surgery Honours Degree University of Limerick
2004-2008 Honours BSc in Physiology and Pharmacology, University College Dublin.
Professional Activities / Achievements
MRCOG 2018, Member of Royal college of Obstetricians and Gyanecologists UK
MSc Obstetrics and Gynaecology 2017, University College Cork
MRCPI 2016, Member of the Royal College of Physicians Ireland
Awarded Summer Scholarship 2007 with the Conway Institute, UCD. Dr Oliver Blaque investigating Cillia dysfunction
Publications:
O'Byrne, L.J., Alqatari, S.G., Maher, G.M., O'Sullivan, A.M., Khashan, A.S., Murphy, G.P. and Mccarthy, F.P. (2022), Fetal and maternal outcomes after maternal biologic use during conception and pregnancy: a systematic review and meta-analysis. BJOG: Int J Obstet Gy. PrePrint. Accepted Author Manuscript. https://doi.org/10.1111/1471-0528.17093
O'Byrne L, Maher G, Khashan A, Greene R, Browne J, Mc Carthy F. Patient reported outcome measures in childbirth and postpartum maternal quality of life: a protocol for systematic review of measurement properties. HRB Open Res 2021, 4:117 (https://doi.org/10.12688/hrbopenres.13445.1)
Änne Helps, Keelin O'Donoghue, Laura O'Byrne, Richard Greene, Sara Leitao Governance of maternity services: Effects on the management of perinatal deaths and bereavement services., Midwifery, Volume 101, October 2021, 103049
Helps Ä, O'Donoghue K, O'Byrne L, Greene R, Leitao S. Impact of bereavement care and pregnancy loss services on families: Findings and recommendations from Irish inquiry reports. Midwifery. 2020 Dec;91:102841. doi: 10.1016/j.midw.2020.102841. Epub 2020 Sep 10. PMID: 32956983.