INFANT is dedicated to delivering an impactful programme of education and public engagement (EPE).
Our EPE programme aims to engage society with our research and to raise awareness and understanding of maternal and child health issues.
Public Engagement
INFANT researchers get involved in a huge range of outreach activities aimed at the public. We want to engage people in what INFANT is doing but we also want INFANT researchers to engage with local students and our community.
Throughout the year, INFANT researchers host public information events, deliver community workshops, take part in FameLab and Science 4 All, and exhibit at many events – from the National Ploughing Championships, to Meet the Engineers at the Lifetime Lab.

The highlight of our calendar each year is the Cork Science Festival which takes place in November. Cork Science Festival is a main partner of Science Week Ireland, one of the largest STEM engagement events in the Irish science calendar.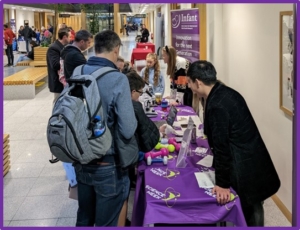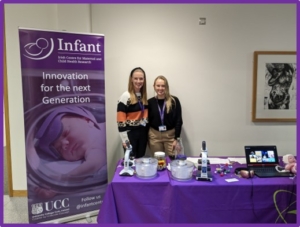 Education
We firmly believe that our next generation of scientists and engineers are in our primary schools. Through our programme of engagement activities, we are actively encouraging positive attitudes towards science, technology, engineering and mathematics (STEM). INFANT offers a wide variety of free activities for primary schools, including hands-on workshops and visits.
Code for Adventure – children learn the basics of computer programming through adventure and hands-on play. Best suited for infant classes.
Electric Brains – children discover what their brain is made of, how it works and learn how to trick it.
Bloody Detectives: Mystery Molecules – children find out what blood is made of, discover how blood helps us save lives and will get to make a bloody mixture!
We can also facilitate career talks and site visits for secondary schools.
Get Involved
If you are interested in getting involved in our any of our Public Engagement or Education programmes, please contact us via the email address or phone number below.