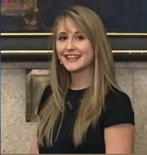 Contact Details:
Email: carol.stephens@ucc.ie
MD Title: SYNAPSE- EpilepSY After NeoNAtal ElectrograPhic SeizuresCarol is a paediatric SpR with the Royal College of Physicians of Ireland (RCPI)  and currently a Clinical Research Fellow with INFANT. Her area of interest is post neonatal epilepsy. SYNAPSE aims to determine the incidence of post-neonatal epilepsy in term infants who went electrographic  monitoring in the neonatal period due to high risk of seizures. It will further evaluate if neonatal seizure(NS) aetiology and seizure burden are related to post neonatal epilepsy and if NS characteristics are related to post neonatal seizure type.  SYNPASE will also evaluate what risk factors give rise to future epilepsy in those infants with no electrographic seizures.

This will be a retrospective, single centre, observational study and infants will be recruited from previous studies since 2003 with INFANT.  In our centre, the neonatal unit, paediatric department and neurophysiology departments are tri-located offering us the unique opportunity to determine the true incidence of post neonatal epilepsy in Irish children.