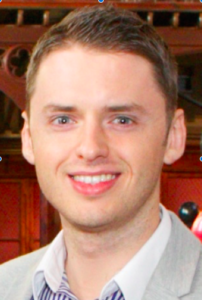 Contact Details:
Email: cathal.oconnor@ucc.ie
PhD Title: SPINDLE – Assessing SleeP IN infants with atopic Dermatitis by Longitudinal Evaluation
Cathal is a medical graduate of University College Cork (2013) and completed basic specialist training in both paediatric (2016) and adult (2018) medicine with the Royal College of Physicians of Ireland (RCPI). He is a Dermatology Specialist Registrar with RCPI and Fellow of the Irish Clinical and Academic Training (ICAT) programme.
Cathal's PhD will assess the sleep disruption seen in atopic dermatitis ('eczema') which affects 20% of Irish children. SPINDLE will recruit a cohort of infants with eczema and compare their sleep macrostructure and microstructure to a matched control group. This will be achieved by novel and thorough analysis of sleep quality and quantity and skin barrier and cytokine assessment.