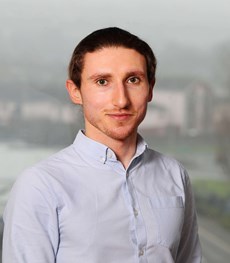 Contact Details:
Email: 118224050@umail.ucc.ie
Chris is undertaking an SFI funded PhD in biomedical signal processing.
Chris's research will involve using novel signal processing and machine learning methods to extract and combine pertinent information from near-infrared spectroscopy (NIRS) and electroencephalography (EEG) data collected by INFANT from babies in the neonatal intensive care unit (NICU).
In developing automated medical data analysis methods, the ultimate aim of this project is to aid in the early detection of brain injury in preterm infants.
Career Profile:
2018-present:  Ph.D, Dept. of Paediatrics & Child Health, University College Cork.
2017                  B.E. in Biomedical Engineering at University College Dublin.