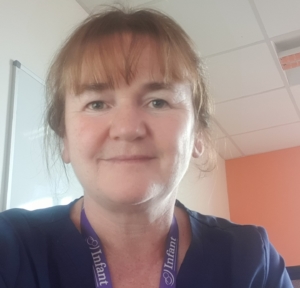 Contact Details:
Email: maryanne.ryan@ucc.ie
Mary joined INFANT team in September 2016. She is a registered general nurse with specialist registration in paediatrics and midwifery. On completion of her registration, she spent seven years in Australia, working in a wide variety of clinical settings and also in the area of education.
This included course development and clinical support for paediatric nursing students in the University of New South Wales. Once back in Ireland, she returned to clinical practice and further education.
Mary Anne's research participation and interests are varied and  include clinical trials conducted in the neonatal unit in CUMH such as the Aerosurf study, double-blinded randomised controlled trial and the Petite study (a multicentre pen label single-arm study to evaluate the Pharmacokinetics, Efficacy and safety of Brivaracetam in neonates with repeated electroencephalographic seizures), electroencephalogram monitoring in hypoxic-ischaemic infants infants (ANSeR study), sleep in the preterm infant as monitored through EEG (SLEEPi study), and developmental outcome of mid to late preterm infants.
Mary Anne was also involved in research studies in conjunction with industry partners such as the NeoView study (exploring technologies which will give parents remote access to neonatal units) and the current Digest study (a study of gastric digestion and the development of a laboratory-based model to predict how food is digested).
Career Profile
2017-Present Registered PhD student, INFANT, UCC
2016-Present Research Support Officer, INFANT, UCC
2016 An Introduction to the Ethics of Health Research, UCC
2015 Nursing Management of Neonate UCC/CUMH
2013-2015 MSc Health Care Ethics and Law, RCSI
2007-2016 Midwife/ Neonatal nurse, Neonatal Unit, CUMH
2002-2007 Practice Midwife, Private obstetric and Gynae practice, Cork Clinic
2001-2001 MComm (Public Administration), Department of Government, UCC
1996 – 1999 BSc Nursing (Hons) Dept of Nursing UCC
1989 – 1993 Medical, surgical, midwifery, paediatric and neonatal clinical practice
1988-1989 Registration in Midwifery, Australia
1982-1986 Nurse registration; Integrated General and Paediatric Nursing (Hons.)
Professional Activities
1. Publications
Ryan MA. (2017). Advocacy: Defacto partner to neonatal nursing practice. Journal of Neonatal Nursing 23(1);5-8.
Ryan MA., Ryan CA., Dempsey E. (2017) Consent for routine neonatal procedures in Irish neonatal units. How do we compare with BAPM guidelines?. Irish Medical Journal (Accepted for publication).
2. Presentations 
Paediatric Academic Society (PAS), Baltimore 2017. Consent for routine neonatal procedures in Irish neonatal units and how we compare with BAPM guidelines (poster presentation).
Irish Research nurses network (IRNN), Galway 2017. Procedural consent in Irish neonatal units (oral presentation)
Congress of Joint European neonatal societies (JENS) Maastricht 2019 –Sleep wake cycling in the mid to late preterm infant in the neonatal unit (oral presentation).