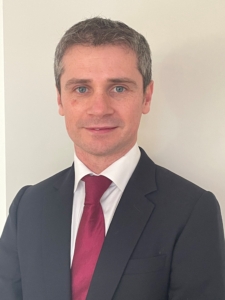 Contact Details:
Email: brianhenry.walsh@ucc.ie
Dr. Brian Walsh is a Principal Investigator at the INFANT Research Centre and a Consultant Neonatologist in Cork University Maternity Hospital.
Brian's research has focused on newborns at high risk of cerebral injury. In particular he has studied different methods for the early identification of brain injury, and also in optimizing neuro-protection strategies, to hopefully improve their outcomes.
Brian graduated in Medicine from Trinity College Dublin in 2004. He was awarded a Molecular Medicine Ireland Clinician Scientist Fellowship in 2009, and studied the ability for early blood biological markers to determine the severity of Hypoxic Ischaemic Encephalopathy in newborns. He was awarded his PhD for this work from UCC in 2014.
From 2013 to 2017 Brian worked in Boston. There he completed his neonatal training, working first as a Fellow, and then Chief Fellow, on the Harvard Neonatal Perinatal Fellowship Program. In 2016 he became an Attending Neonatologist in the Brigham and Women's Hospital in Boston, with an academic appointment to Harvard Medical School.
While in Boston Brian continued to focus on newborns at high risk of neurological injury. Under the mentorship of Prof Terrie Inder, he studied the cerebral MRIs of newborns with neonatal encephalopathy, in particular describing the injury associated with milder grades of encepahloapthy. He received his first major independent grant funding during this time to establish a novel imaging cohort of at risk newborns. Additionally he co-authored novel regional consensus based guidelines on therapeutic hypothermia eligibility, lead a multi-centre education initiative around these guidelines, and the development of a regional multi-centre database across 14 sites, to assess their impact. Brian continues to collaborate on these projects since returning to Cork.
Brian continues to work on furthering our ability to accurately identify newborns at high risk of brain injury. His current work includes studying differences between current standardized neurological exams for therapeutic hypothermia eligibility, studying the MRI patterns associated with varying outcome patterns following neonatal encephalopathy, assisting in efforts to use machine learning algorithms to improve identification of newborns at significant risk of encephalopathy, and is co-supervising a PhD candidate assessing the association between HIE and development of epilepsy, and a Post-doctoral student assessing the association between early EEG and neuro-development among preterm infants exposed to Perinatal inflammation.