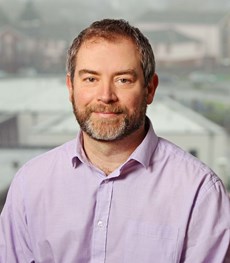 Contact Details:
Email: sean.mathieson@ucc.ie
Sean is currently working as a neurophysiologist on the ENRICH study which includes an investigation of the effect baby massage on sleep and cognitive development, for which babies will have a short EEG at birth and an overnight EEG at 4 months of age.
After completing a BSc in Biology in Bath and an MSc in Neuroscience at UCL, Sean trained and worked as a Clinical Physiologist at Great Ormond Street hospital from 2001-2009 in the EEG department performing EEG (brainwave) recordings and other neurophysiological tests on children with epilepsy. He worked in the Neonatal Brain Research Group from 2009 – 2016, working at UCLH in London to recruit and record EEG on neonates at risk of seizures for the ANSeR study to test an automated seizure detection algorithm for neonatal EEG. During this time he studied for a PhD which involved analysis of various aspects of the performance of the ANSeR algorithm.
Career Profile: 
2017 –present – Research Support Officer ENRICH study
2009-2016 – Research Associate UCL/UCLH London for ANSeR study, including PhD
2001-2009 – Clinical Physiologist, Dept of Clinical Neurophysiology, Great Ormond Street Hospital
1997-1998 – MSc Neurological Science, UCL, London
1993-1996 – BSc Biological Science, University of Bath