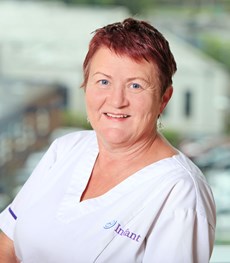 Clinical Research Nurse/Midwife
Contact Details:
Email: i.herlihy@ucc.ie
Ita is a Clinical Research Nurse/Midwife for the INFANT Centre in Cork University Maternity Hospital.
HIP: A Phase III Clinical Trial entitled 'HIP – Management of Hypotension In the Preterm'. This trial is currently enrolling. The HIP Trial is an EU FP7 funded project and is the largest multi centered European study in Extremely Low Gestational Age Newborns (ELGAN)
Cupid: This is a pilot trial. We aim to compare maternal and neonatal outcomes following either Immediate Cord Clamping, Delayed Cord Clamping with ventilation initiated at the bedside and Umbilical Cord Milking. This data will be used to determine the feasibility of a future multinational randomized controlled trial of cord clamping.
BabySAFEE: The aim of this study is to employ novel ECG feature extraction and analysis techniques to identify biomarker sets for fetal hypoxia and/or sepsis during labour.
SafeboosC: (Safeguarding the brain of our smallest children) an investigator-initiated randomised, blinded, multinational, phase II feasibility clinical trial. 21 infants were recruited into the trial to monitor cerebral oxygen levels using Near Infrared Spectroscopy. This has just been completed with 100% follow up at 2 years corrected gestational age.
Previous studies: The RSV, NIPPV, Neon and Virome Studie
Upcoming projects: The Mint Trial (Clinical Trial of an IMP), The Aerosurf Trial (Clinical Trial of an IMP and Clinical Investigation of a Medical Device).
Career Profile:
Registered General Nurse 1980/Registered Midwife 1981
Post Graduate Certificate in Clinical Research: RCSI 2014
2011-Present: Cork University Maternity Hospital
2002-2010 Clinical Trials Nurse in Shandon Clinic (Private CRO)
Completed Neonatal Resusitation Programme 2016
Certificate in Venepuncture Jan 2016