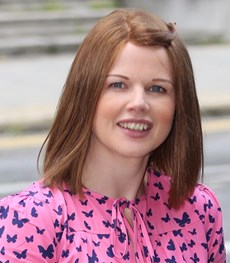 Contact Details:
Email: maritahennessy@ucc.ie
Marita is a postdoctoral researcher at INFANT, working on a "Study of the impact of dedicated recurrent miscarriage clinics in the Republic of Ireland", led by Dr Keelin O'Donoghue and funded by the Health Research Board.
Prior to joining INFANT in January 2020, Marita was a Health Research Board-funded SPHeRE PhD Scholar within the Health Behaviour Change Research Group at NUI Galway. For her doctoral studies, she examined behavioural interventions delivered by health professionals during the first 1,000 days to prevent childhood obesity.
Her research interests include maternal and child health, childhood obesity, health behaviour change, implementation science, commercial determinants of health, health inequalities and men's health. She is experienced in a range of research methods including qualitative, mixed methods, systematic review, and creative approaches. Prior to commencing her doctoral studies, Marita held research roles with safefood, University College Cork, the Children's Research Centre-Trinity College Dublin, the National Cancer Registry, and Waterford Institute of Technology.
Career Profile:
2020-Present: Postdoctoral Researcher, INFANT Centre, UCC
2016-2019: Communications Officer (Part-time), QUESTS Centre, School of Nursing and Midwifery, NUI Galway
2014-2015: Research Officer, National Research Programmes, Waterford Institute of Technology
2012-2013: Researcher/Project Coordinator, National Cancer Registry, Cork
2011-2012: Research Assistant, Children's Research Centre, Trinity College Dublin
2008-2011: safefood Fellow – Public Health Nutrition, University College Cork
2005-2008: Technical Executive, safefood, The Food Safety Promotion Board, Little Island, Cork
Education Profile:
2015-2020: PhD | National University of Ireland Galway (Expected)
2014-2015: Specialist Diploma in Teaching, Learning and Scholarship | University of Limerick  
2010-2011: Diploma in Youth and Community Work | University College Cork
2006-2008: MA in Health Education and Health Promotion | University of Limerick
2002-2003: Certificate in Quality Management | Cork Institute of Technology
1997-2001: BSc Nutritional Sciences | University College Cork
Professional Activities/Achievements:
Member of the Irish Heart Foundation Nutrition Council (Nov 2016-Present)
Member of the Health Service Executive Healthy Weight for Children Working Group (Oct 2016-Present)
Member of the following professional organisations: Association for Health Promotion Ireland; Association for the Study of Obesity on the island of Ireland; Children's Research Network for Ireland and Northern Ireland; European Health Psychology Society; International Society of Behavioral Nutrition and Physical Activity; International Union for Health Promotion and Education; Society for Social Medicine & Population Health