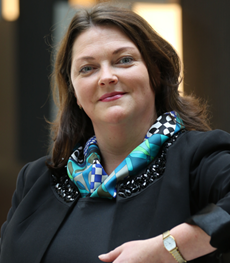 Contact Details:
Email: infant@ucc.ie
Dr Ena Prosser is a Partner in Fountain Healthcare Partners (www.fh-partners.com). Ena was part of the team that raised Fountain's initial fund in 2008 and now have $300m under management. Ena is a PhD biotechnologist by training and has a broad background in international alliance and intellectual property management. She invests  across specialty pharma, diagnostic, device and biotechnology areas. Her investments include in Ireland's Genable Ltd (sold to Spark Therapeutics/Roche Inc in 2013), led the Series B investment in NeRRe Therapeutics (UK) Ltd and KaNDY Therapeutics (UK) Ltd (sold to Bayer in 2000), Series C investor in TREM-1 company Inotrem S.A.(Paris) in 200 and was a Series A investor  IL-15 leader Calypso Biotech (Amsterdam)  in 2021.
Ena was formerly Director of BioResearch Ireland at Enterprise Ireland. In this role, she led a large team to identify, fund, protect and exploit relevant Intellectual Property, commercialise lifescience technologies and review investment opportunities in R&D. Prior to Enterprise Ireland, Ena held various R&D and project management roles within Elan Corporation and had extensive involvement in drug delivery development, licensing and acquisition projects over a 9-year period.
Ena joined the INFANT advisory board in 2015 and was appointed Chair in 2019. She also has a strong innovation policy background and was an advisory  member of several Irish  and EU Government Innovation & Policy organisations from 1998-2017 including  ICSTI/ASTI, SFI, HRB and Knowledge Transfer Ireland. Ena works closely with leading ophthalmology research charity Fighting Blindness Ireland. Ena is an Adjunct Associate Professor at University College Dublin and a member of the Institute of Directors (Ireland).