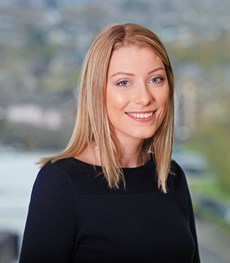 Lead Investigator – Opt -I- Mum Project
Dr. Áine Hennessy is a SFI-funded Lead Investigator at the INFANT Research Centre, and a Senior Postdoctoral Researcher  at the Cork Centre for Vitamin D and Nutrition Research.
In 2019, Áine was awarded a Science Foundation Ireland Starting Investigator Research Grant (SIRG) and is currently working within INFANT on the Opt- I- Mum project which uses an outcome-driven, personalized nutrition approach to investigate functional indicators of iodine status during pregnancy.
Áine joined the School of Food and Nutritional Sciences at UCC in 2010 as a Research Assistant where she worked on the National Adult Nutrition Survey and the National Pre-school Nutrition Survey. During this time, Áine completed a PhD in Nutrition in the area of micronutrients and the role of fortified foods in the diets of young children and adults.
In 2014, Áine undertook her postdoctoral training at the Cork Centre for Vitamin D and Nutrition Research at the School of Food and Nutritional Sciences, UCC and worked on the EU-FP7-funded ODIN project (Food-based solutions for optimal vitamin D nutrition and health through the life cycle) to conduct randomized controlled trials to establish the dietary requirement for vitamin D during pregnancy, childhood and adolescence, in addition to investigating the relationship between vitamin D status and atopic disease in early childhood.
Professional Activities/Achievements:
Áine is a member of the Nutrition Society and regularly attends national and international nutrition conferences.
In 2012 Áine won the Nutrition Society Postgraduate Review Competition and published the associated review in the Proceedings of the Nutrition Society.
Áine is a reviewer for a number of international nutrition journals.