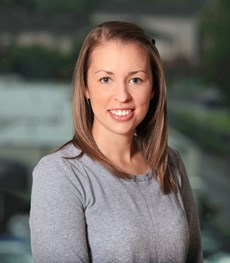 Lead Investigator  – IDEA Project
Dr. Elaine McCarthy is a Lead Investigator at the INFANT Research Centre and Lecturer in Nutrition at the School of Food and Nutritional Sciences in University College Cork.
In 2020, she was awarded a prestigious Applying Research into Policy and Practice Fellowship from the Health Research Board in Ireland to develop a screening strategy for iron deficiency in pregnant women and infants (IDEA project).
Elaine graduated from University College Cork with a BSc in Nutritional Sciences in 2012 and a PhD in Human Nutrition in 2016. Her PhD investigated associations between iron and growth and developmental outcomes in infants and young children in the Cork BASELINE Birth Cohort Study. Elaine began her postdoctoral training at the Cork Centre for Vitamin D and Nutrition Research on the European Commission funded ODIN integrated project on food-based strategies for vitamin D deficiency prevention, exploring the role of vitamin D in neurological development in childhood. Following this, Elaine diversified into the preterm nutrition space, working as co-investigator on the Science Foundation Ireland-funded PiNPoINT (Personalised Nutrition for the Preterm Infant) Study in the INFANT Research Centre.
Elaine's research to date has been mainly in the field of maternal and paediatric nutrition, with a particular interest in the role of micronutrients, especially iron, in brain function and development in term and preterm infants. Her other main interest has been in the area of nutritional biomarker research, focusing on nutritional status diagnostic criteria and screening in vulnerable population groups.
Elaine has received several awards for her research, including a British Nutrition Foundation Drummond Early Career Scientist Award in 2019. Most recently, Elaine was awarded the Nutrition Society Julie Wallace Award 2021 for her research on iron deficiency in the first 1,000 days of life. She is a member of the Nutrition Society and American Society for Nutrition.