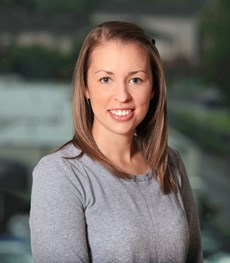 Co-Investigator & Postdoctoral Researcher, PINPOINT
Elaine is currently a co-investigator and postdoctoral researcher on the Science Foundation Ireland-funded PiNPoINT (Personalised Nutrition for the Preterm Infant) Study.
Elaine graduated from University College Cork with her BSc. (Hons) in Nutritional Sciences in 2012 and completed her PhD in human nutrition in 2016 under the supervision of Professor Mairead Kiely. Elaine's PhD thesis was titled "iron status in early life and associations with developmental outcomes", with the primary aim of her research to investigate associations between iron intakes and status and growth and developmental outcomes in toddlers in the Cork BASELINE Birth Cohort Study.
Within INFANT, Elaine continues her research in the field of neonatal and paediatric nutrition, with her current research focused on micronutrients and their associations with health outcomes, in particular, neurodevelopmental outcomes in both preterm and term infants.
Career Profile:
2018-present Co-investigator, PiNPoINT Study
2016-present Postdoctoral researcher, PiNPoINT Study
2012-2016 PhD Human Nutrition, University College Cork
2008-2012 BSc (Hons) Nutritional Sciences, University College Cork
Professional Activities/Achievements:
Member of the Nutrition Society since 2012.
Regularly attends and presents at national and international conferences and was awarded travel bursaries/prizes including the Safefood Travel Bursary (2013), Michael C Berndt Medal for Research Innovation (2015) and a Nutrition Society Travel Bursary (2016).
Acts as a reviewer for a number of international nutrition journals.