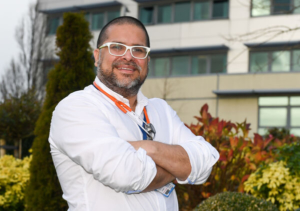 Lead Investigator – COWS Project
Contact Details:
Email: juan.trujillo@ucc.ie
Dr. Juan Trujillo is a Lead Investigator at the INFANT Research Centre and a Consultant Paediatric Allergist in Cork University Hospital.
In 2021, he received funding from the National Dairy Council to lead the COWS Project, conducting a Comparison of IgE-Mediated Cow's Milk Protein Allergy (CMPA) Management Strategies (COWS).
Juan trained in Paediatric Allergy and pulmonology in Corporacio Sanitari Parc Tauli Hospital Sabadell (Barcelona, Spain). He is a member of the European academy of allergy and clinical immunology (EAACI), Irish Association of Allergy and Immunology, British Society for Allergy & Clinical Immunology (BSACI), Spanish society of paediatric asthma allergy and clinical immunology (SEICAP).
Paediatric allergy and pulmonology external rotations during his training included: Paediatric pulmonology in Hospital Niño Jesús (Madrid -Spain) and Arnold Palmer Children Hospital (Orlando Florida US). Paediatric allergy and immunology in Miami children Hospital (Miami Florida US)
MD title from Universidad Científica del Sur (Lima Perú). MSc in paediatric Pulmonology, Allergy and Immunology from Universidad Autónoma de Barcelona (Barcelona Spain)
His Research interest and profile  include Pharmacology clinical trials, allergy educational research projects, Oral and inhalant immunotherapy trials, asthma research.