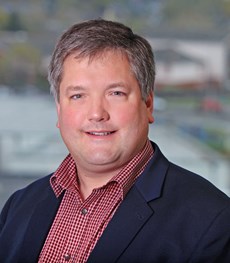 Simon is a lecturer in Business Information Systems in Cork University Business School. He teaches technical topics such as programming, software development and mobile application development.
Simon's main research interests are: Connected Health in both community and hospital settings, in developed and developing countries. He is particularly interested in how improvements in patient outcomes can be brought about by replacing paper-based systems with electronic ones.
Other areas of research which interest Simon include how information systems influence patient care pathways; how decision support systems and business intelligence influence patient care and care management; how disruptive low – cost technologies can be used in resource limited environments and information systems cybersecurity.
Simon is currently involved in the following INFANT projects
The KILIMANJARO COALESCE project, which aims to implement an electronic birth registry in the Kilimanjaro region, thus providing data to reduce maternal and neonatal mortality in the medium term.
Providing technical resources to the CODALIFE SFI proposal.
Providing technical assistance to the Conect4Children(C4C) project.
Reusing the LEANBH technology platform for the C-CAMHS project.
Investigating the use of smartphones for urinalysis.
Career Profile
2013 PhD, Business Information Systems, UCC
2005 MSc, Business Information Systems, UCC
2015-Present Director, Health Information Systems Research Centre, UCC
2004-Present Lecturer, Business Information Systems, UCC
2002-2003 Business Analyst, Affinity Wireless Ltd, UK
1992-1999 Various roles in telecommunications (including field engineering work in Africa and Customer Care Management in SE Asia), Motorola, UK and Ireland
1988-1992 Various roles in telecommunications, Ericsson, Ireland
1988 BSc, Computer Science, UCC
Professional Activities/Achievements: 
Consultancy Project of the year, 2021, Covid Response Team, Centre for Resilience for Business Continuity. Awarded in part for rapid setup of an Emergency Management Information System for the HSE the early weeks of the COVID-19 pandemic.
Impact award for reusing LEANBH technology to allow pregnant women to self-monitor blood pressure during the COVID-19 pandemic.
Member, HIQA Advisory Group, "National Standards for Information Management in Health and Social Care," 2022.
Member, HIQA Advisory Group, "A consent model for the collection, use and sharing of Health Information," 2020-2021.
Director, Health Information Systems Research Centre.
Advisory Board member, PANACEA H2020 project on cybersecurity in hospitals.