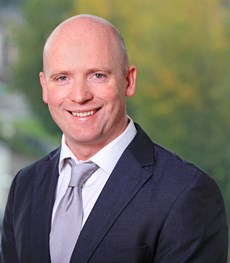 Funding & Development Manager
Eoghan provides support to our research teams in preparing grant applications to the EU Horizon2020 and other funding programmes, both exchequer and non-exchequer. He is a focal person for INFANT's Global Health Programme.
Since 2001, Eoghan has worked with large institutions including University College Cork, Trócaire, and the United Nations where he developed his extensive research and project management experience both in Ireland and in Sub-Saharan Africa.
He has developed skills and experience across a range of disciplines including: research, research support, project management, monitoring and evaluation, results based management, strategy development, lecturing, resource mobilisation, budget management, training and facilitation, programme design, proposal development, impact assessment and articulation and liaising with institutional funders.
At INFANT, Eoghan focuses on supporting applications for competitively awarded research grants from both exchequer and non-exchequer funding sources. He also has a leading role in INFANT's Global Health Programme.
Eoghan has delivered results in numerous projects in Trócaire, the community and voluntary sector in Ireland, EU FP6 funded research, United Nations Development Programme, Tanzania and United Nations HABITAT. He has 12 years' experience in Eastern and Southern Africa working, researching and supporting research in health and human development.
He has a passion for working with people in dynamic, innovative environments, where the focus is on making an impact and delivering results. He enjoys working as part of an organisation that lives its values in a real and practical way.
Career Profile
June 2019 – Present INFANT Funding and Development Manager
2015 – May 2019 INFANT, EU Programme Manager
2009 – 2015 Trócaire, Strategy and Impact Adviser
2008 – 2009  Exodea Europe Consulting, Senior Researcher,
2005 – 2007 United Nations Development Programme, Tanzania (Monitoring & Evaluation Officer Zanzibar AIDS Commission)
2007 University College Cork, Researcher EU FP6 Project TERESA (types of interactions between environment, rural economy, society and agriculture in European regions)
2003 – 2006 University College Cork, Lecturer on Development Studies Diploma at Centre for Continuing Adult Education
2001- 2005 University College Cork PhD Researcher. Department of Food and Nutritional Sciences and Department of Food Business and Development
2004 United Nations-HABITAT. Consultant data analyst and report writer for Urban Inequity Survey of Addis Ababa, Ethiopia.
Education
2006  University College Cork PhD Food Science and Technology ""Inter-linkages between HIV/AIDS and Food/Nutritional Security: Southern African Cases" Extensive field research in Zimbabwe and South Africa.
2001 University College Cork BSc (Hons) Food Science & Technology (Food Business
Professional Activities/Achievements:
PRINCE2® Registered Practitioner (Project Management in Controlled Environments).
INFANT focal person for the Partnership for Maternal, Newborn and Child Health (WHO) Healthcare Professional Constituency.
 Completed an Advanced Monitoring and Evaluation training by International NGO Training and Research Centre (INTRAC) Oxford, 2010.
Completed Monitoring and Evaluation Capacity Strengthening (MEASURE Evaluation, UNAIDS, USAID) January 2007.
Published papers in peer reviewed journals including the Delhi Business Review (2010) and Organisational Project Management (2016).
Completed training in Assessing and Building Partner's Financial Management Capacity run by MANGO. (Management Accounting for NGOs) in 2011.
Presented papers at conferences in Ireland, UK, Turkey and published conference abstracts including for the International Forum for Social Sciences and Health (IFSSH) World Congress in Istanbul, Turkey 2005, Gorta World Food Day, 2004 and the UK Development Studies Association Conference, 2005.
Fluency in French, Swahili and Irish with a good level of German and basic Spanish.
Certified Occupational First Aid Responder (FETAC Level 5).