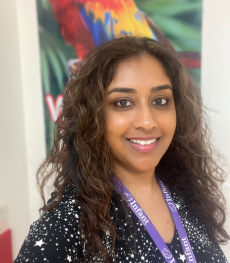 Contact Details:
Email: IStapleton@ucc.ie
PhD Title: A Longitudinal Observational Assessment of Diastolic Function during the Transitional Period and Infancy using Serial Echocardiography (The DiFuSE Study)
Iyshwarya is a medical graduate of UCC. She is currently a Specialist Registrar in Neonatology with the Royal College of Physicians of Ireland (RCPI), a PhD student at UCC and a Clinical Research Fellow with INFANT. Her areas of interest are neonatal haemodynamics and diastolic cardiac function. DiFuSE will assess diastolic function during the neonatal transitional period and long-term into infancy. This will be a prospective, single-centre, observational study on neonates born at 35 weeks' gestation or above. The goal is to create reference values for diastolic function parameters and to assess the influence of pre-defined antenatal, intrapartum, maternal, and neonatal factors on cardiac function.
The main questions it aims to answer are:
What are the normal reference ranges for parameters of diastolic cardiac function in the term neonate using both conventional and novel echocardiographic measures?
How are these influenced by maternal, intrapartum, and neonatal factors?
Do the diastolic changes noted during the first two days of life persist into infancy?
Her supervisors are Prof. Eugene Dempsey, Dr Neidin Bussmann and Dr Daragh Finn.