The INFANT Research Centre at University College Cork has won the prestigious "Best application of AI in an Academic Research Body" award at this year's National AI Awards.
The AI Awards, hosted by AI Ireland and main sponsor Microsoft, are devoted to promoting AI in Ireland, with this year's "Best application of AI in an Academic Research Body" sponsored by the RDI Hub.
The INFANT Research Centre secured a nomination based on its cutting-edge research and pioneering breakthroughs in using AI technology to detect neurological problems in newborn infants.
Recent advances on the Neurobell project, led by Dr. Mark O'Sullivan, are focused on bringing this disruptive technology toward everyday clinical use.
The project is developing an end‑to-end diagnostics solution, which integrates portable and wireless monitoring with on-board AI, to ensure that it can be rolled out across multiple hospital settings.
EEG monitoring is the gold standard for neurological monitoring, however, it requires specialised expertise to both set up the monitoring systems and to interpret the EEG traces.
According to Dr. O'Sullivan, "by developing a portable monitor with on-board decision support, we're aiming to increase the number of hospitals capable of providing EEG monitoring for high-risk newborns.

"The cot side technology that we're building is designed to allow for the neurological monitoring of newborns, across all hospital settings, helping those in need to be diagnosed and treated in a timely manner.

"Given that brain injuries in newborns account for 23% of all infant deaths and over 1 million cases of permanent disability globally each year, the timely and accurate diagnosis of potential issues are essential to provide treatment and help improve patient outcomes."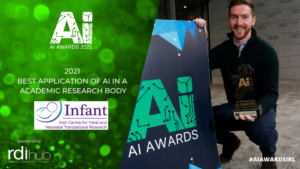 The UCC based research centre has now won the award for three consecutive years, demonstrating INFANT's appetite to constantly innovate and advance this state-of-the-art field.
The award also shines a spotlight on the innovative research being conducted at UCC and reinforces INFANT's position as leader at the cutting edge of AI.
According to INFANT Director, Prof Geraldine Boylan, "this award highlights how INFANT is constantly striving to innovate in maternal and child healthcare, an area where there is huge potential and great clinical need. The multidisciplinary team approach championed by INFANT has been a key enabler to successful application of our AI solutions. We are very grateful to AI Ireland for this strong endorsement of our work and to Microsoft and EDI Hub for their sponsorship."
The research being undertaken at the INFANT Research Centre leverages the power of AI and inter-disciplinary research, combining engineering, computer science and clinical expertise to develop a solution that meets the clinical need for a robust neonatal brain monitoring system.